More about Dr. Mark Bussan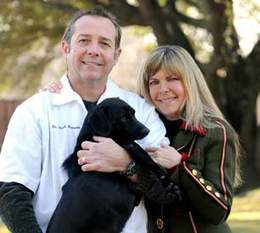 Dr. Bussan graduated from UCLA in 1984 with the degree of Bachelor of Science in Kinesiology (the study of movement and biomechanics). He then attended Los Angeles College of Chiropractic where he graduated on the Deans List with a Doctor of Chiropractic degree, in 1988.

Having already worked, and Interned at a Chiropractic office in Burbank, California since 1984, while attending school, Dr. Bussan immediately started his own practice in Westlake Village, California in 1989.

Dr Bussan started utilizing the VOM™ techniques back in 1997, when Dr. Inman first started offering his training and certification programs to chiropractors and veterinarians. Dr. Inman was very pleased to find that the product line from HTI worked better than all the other nutritional products he had tried through the years for animals, so he asked Dr. Bussan to be a nutritional guest lecturer at his VOM seminars across the country, a privilege that he continues even today.

In 2005, Dr. Bussan was asked to work on a Doberman dog who was given up for dead after a reaction to the drugs he had received during a surgery. With a few days of VOM™ treatments, the dog not only lived, but was able to walk again! What Dr. Bussan did not realize was that the owner of that dog would become his wife. With successful chiropractic practices for humans, animals, and a nutritional company, there was little time left for his new wife and personal life.

Dr. Bussan retired from treating his "people patients," in 2006, and moved to Plano, TX where he started an "animals only" practice. In 2013 Dr. Bussan moved to Treasure Island, FL where he will work on "animals only" both in TX and FL. He continues to travel across the country to work with veterinarians as a Certified Veterinary Chiropractitioner specializing in Equines, Dogs, and Cats, as well as running his HTI nutritional company, and guest lecturing with Dr. Inman at the VOM seminars.

Seeing the need for quality pain-relieving and nutritional supplements, Dr. Bussan started Health Tech Industries (HTI) to have products that really worked for his patients, the public, and other practitioners.

The products he produced also worked great with dogs, cats and horses, so he started producing a line specifically for them.

Products & Treatment Options That Deliver Results

Dr. Bussan is well-known for his holistic approach that includes not just physical adjustments (VOM) and wave-energy treatments, but also custom-compounded herbal formulations for joint health, detoxification and digestive balance - for BOTH animals and humans.


---