DR. BUSSAN'S™ Glucosamine+Joint Rescue Formula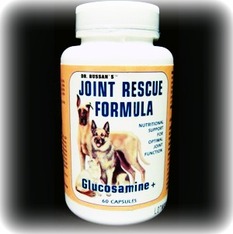 We at Health Tech Industries, Inc. were pleased to introduce our revolutionary all-natural dietary supplement, DR. BUSSAN'S™ Glucosamine+ Joint Rescue Formula, for dogs and cats. This product has shown remarkable success and results in alleviating pain and rebuilding cartilage in people. Our clients were using our products on their pets because they personally had experienced great relief and they wanted the same results for their beloved pets. In order to make our Glucosamine Sulfate product more readily available to all pet owners, we have developed a version specifically for cats and dogs, at an affordable price! I saw first-hand in my own 12-year old German Shepherd how our product had shown remarkable results for hip dysplasia and arthritis. **(Please note that the overall following information pertains to ALL our versions: Human, Dog/Cat, and Horse. The dosage information does, however, vary between the versions).**

Our pets' bodies are constantly being subjected to wear and tear, especially their joints. Cartilage, the smooth, tough layer of tissue that covers the bony ends of joints, is connective tissue that is very much alive. Normally when this tissue becomes damaged, the body slowly replaces it. As our pets grow older, however, their bodies become less efficient at repairing cartilage. Joint disease is the most common skeletal abnormality affecting dogs, and it has been estimated that arthritis affects 80% of all dogs over five years old!

Researchers have recently discovered that healthy joints and other critical components of the body have high concentrations of the amino sugar Glucosamine. Glucosamine Sulfate is so important that it is found in all body tissues including bones, tendons, ligaments, cartilage, synovial (joint) fluid, heart valves, blood vessel linings, and mucous membranes of the digestive, respiratory, and urinary tracts. It is a natural part of the "glue" that holds the body's cells together in all animals. The main function of Glucosamine Sulfate in joints is to stimulate the manufacture of substances necessary for proper joint function, and it is also responsible for stimulating joint repair–you might say it is "joint food!" Sulfur is an essential nutrient for joint tissue in that it links up with other molecules in a criss-cross fashion. It is this stabilized structure that helps give form, strength, resiliency, and shock absorption to your pet's joints. A dietary deficiency of Glucosamine Sulfate may result in premature aging of cells, loss of cellular function, susceptibility to bacterial and fungal infections, and ultimately cell death. To further enhance this sulfur cross-linking, we have added the essential amino acid Methionine. It also acts as an anti-inflammatory and a pain reliever, and stimulates cells that are responsible for providing the protein molecules which also help give cartilage its strength and resilience.

The Glucosamine Sulfate molecule has high purity and is up to 250 times smaller than other products which stimulate cartilage formation, such as bovine and shark cartilage, chondroitin sulfate, sea cucumber, and green-lipped mussel (Perna Canaliculus). Clinical studies utilizing 750-1,500 milligrams per day for eight weeks, based on the size of the pet involved, showed that Glucosamine Sulfate is easier to absorb and utilize than these other products–up to 98% absorption versus only 8-36% for the others. There are also other types of Glucosamine, known as HCL and NAG; however, studies have shown the Sulfate version is the best utilized by your pet's joint structures. Some people assume, incorrectly, that the HCL version is better as they expect the "strong acid" that it makes to breakdown the Glucosamine. We have added Malic Acid from non-tropical fruits like apples and peaches to our sulfate version, as it breaks down the Glucosamine better, giving increased absorption and utilization, as well as the previously mentioned sulfur cross-linking ability which is not present in the HCL version.

Glucosamine Sulfate has also been shown in the studies to yield better long-term results than NSAIDs (nonsteroidal anti-inflammatory drugs, such as aspirin and ibuprofen) in safely alleviating the pain and swelling associated with arthritis-type inflammatory joint ailments, hip dysplasia, and/or injuries, without the harmful reactions or side effects associated with these pharmaceuticals. These side effects include stomach, liver and kidney problems, as well as actual joint damage! Glucosamine Sulfate does not provide mere analgesic effects like the NSAIDs, but relieves pain by actually helping to repair connective tissue and damaged joint structures. When before-and-after samples of cartilage were looked at under a high powered electron microscope from the group receiving eight weeks of Glucosamine Sulfate supplements, there was a reversal of the original damage, and the cartilage looked nearly healthy! The group which took NSAIDs however, showed an increase in damage. It appears that even though NSAIDs may initially provide fast pain and inflammation relief, they actually block a step in the body's ability to repair itself and make new cartilage, promoting cartilage damage! (A group which received placebo pills showed no before-and-after changes.) It was also interesting to note that even after the test subjects had been off the Glucosamine Sulfate supplements for many weeks, their improvements were still maintained, again showing that the effects are correcting at the source of the problem, not just covering up the pain and inflammation symptoms like the NSAID group.

DR. BUSSAN'S™ Glucosamine+ Joint Rescue Formula is enhanced with the power of nine additional synergistic herbal extracts in our unique proprietary blend. Our extraction process concentrates the herbs, thereby increasing their strength, digestibility, absorption and utilization. Many of these herbs are a rich source of one of nature's most potent naturally occurring antioxidants, Superoxide Dismutase (SOD), which also helps in the production of synovial (joint) fluid. These herbs were also chosen because of their ability to promote muscle relaxation and offer natural relief for your pet from pain, swelling, and inflammation.

This is very important because, as stated earlier, Glucosamine Sulfate by itself does not act as a pain reliever or anti-inflammatory, but rather acts by initiating the repair of damaged joint tissue. It is for this reason that most other Glucosamine Sulfate products may take 4 to 6 weeks for noticeable results. Many pet owners notice better comfort and mobility in their companions in as little as three days, and most within two weeks when utilizing DR. BUSSAN'S™ Glucosamine+ Joint Rescue Formula, as the herbs start working on pain and inflammation while the Glucosamine Sulfate is in its early stages of "feeding" the joint structures for repair!

Several nutrients (vitamins, minerals, and one of the essential amino acids) in our Joint Rescue Formula play key roles in the best utilization of Glucosamine Sulfate, and for some, in the rebuilding of cartilage in your pet's joints. For example, the antioxidants contained in DR. BUSSAN'S™ Glucosamine+ Joint Rescue Formula (vitamin C, SOD, and catalase) share common properties of helping to neutralize free radicals (the unstable and reactive molecules that are the products of normal cellular metabolism, but damage normal cells by causing their degeneration or premature aging), and inflammation in cartilage. These are common problems in osteoarthritis, chronic joint loading, abnormal joint forces, overexercise, trauma, genetically linked disease (i.e., hip dysplasia), auto-immune, and even excessive iron. The cells responsible for cartilage upkeep and repair work very slowly, and have poor circulation, so both injuries and repairs take months or years to become fully evident. We have utilized the polyascorbate version of vitamin C because it is mineralized and aids in the absorption and retention in the body's tissue; and because it has a neutral pH, it does not cause an upset stomach. Ascorbic acid, the vitamin C we are most familiar with, is too rapidly excreted to be effective and can irritate the lining of the digestive tract, and at higher dosages may cause the formation of crystals in the urinary tract! (Unlike humans, cats and dogs produce some of their own vitamin C).

Glucosamine Sulfate can be used pre- and post-operatively for pets undergoing joint surgery to improve post-operative recovery. (We have found that one of our other products, Super HBA Plus™ also works well in conjunction with the Joint Rescue Formula in these surgical conditions, and with long-standing joint problems, as it contains ingredients which increase oxygen, maintain protein, and help preserve muscle mass.) If your pet is given NSAIDs after joint surgery (or injury) it may experience immediate anti-inflammatory effects which may be useful for a few days, but as stated earlier, long-term use of NSAIDs actually impairs the healing of these structures.

Daily supplementation with DR. BUSSAN'S™ Glucosamine+ Joint Rescue Formula can be very important to a well- rounded dietary program for your pet. Please note that Glucosamine Sulfate (and other products which stimulate cartilage formation, such as the other versions of glucosamine, chondroitin sulfate, green-lipped mussel, bovine and shark cartilage) should be given on an Empty stomach, or with a treat, but NOT in a meal. These products are natural binders of fat in food, so while this will reduce the fat and cholesterol content your animal is getting, they can not help joint structures if bound to fat! DR. BUSSAN'S ™ Joint Rescue Formula should be taken for a minimum of two months at the full strength dosage based on our weight chart, or as recommended by your veterinarian. After this initial dosage, you may be able to reduce to a maintenance level which can usually be determined by your pet's visual comfort and mobility level. Please note, however, if your pet has more serious or long-standing arthritic conditions, he or she may need to stay on a full strength dose. (We have also found combining our Super HBA Plus™ to our Glucosamine further increases its effectiveness). Our supplements may not be a cure-all for serious and advanced cases, but most users will experience less pain and inflammation. Additionally the breakdown of joint tissues will usually not advance as rapidly, and can even be reversed, leaving your pet with better joint mobility and ambulation.

If your pet belongs to a breed that has arthritis, hip dysplasia, or other painful joint/bone disorder as a genetic weakness, start supplements early in life. Maintaining healthy tissues and joints before they display symptoms is easier than repairing them, thus enhancing the quality of life for your beloved pet. Watching your pet struggle to get up, slowing down daily activities of running, jumping, and playing catch to just a minimal painful, limping existence, is very disheartening. Fortunately, in my dog's case, for the last few years our supplements had been able to reverse some of the damage done by the years of degeneration caused by these painful debilitating diseases. These same findings have been echoed by our clients utilizing our products on their pets, as well as the numerous veterinarians across the country who are switching their clients to our fine product line.

Based on all the current studies and literature, we at Health Tech Industries, Inc. are confident that we have the most effective product to maintain and repair your beloved pet's joint structures, and we have done this at an affordable price! Remember, compare labels to see how much, and what type of product is available in EACH capsule! Many products list ingredients per dose, which may be 2-3 or more capsules! Remember too, none of the other products which stimulate cartilage production mentioned above, or combinations of these products, are absorbed and utilized as well as Glucosamine Sulfate alone, so you have to give your pet more of the others to get an equivalent dosage, thereby costing you more. No other product contains the synergistic herbs and nutrients we have added to enhance the Glucosamine Sulfate even further. In addition, many of these other products also contain unwanted sodium as a binder in their products. DR. BUSSAN'S™ Glucosamine+ Joint Rescue Formula contains No sodium binders!

PAIN: Your pets may have it...but they DON'T have to live with it!


Ingredients: DR. BUSSAN'S™ Glucosamine+Joint Rescue Formula

EACH CAPSULE CONTAINS: (Same Ingredients for both human and pet formula's)

%DRV
Glucosamine Sulfate.............................500 mg............... *** 99% pure USP Grade
Herbal Extract Complex........................125 mg................***
(Wild yam, licorice root, aloe vera, pfaffia root, red poppy flower, turmeric, white penny root, yucca, cordyalis rhizome (a rich source of Super Oxide Dismutase (SOD), and catalase antioxidants.)
Methionine...............................................75 mg............... ***
Malic Acid................................................50 mg................***
Polyasorbic Acid (Vitamin C)...................25 mg...............42%
Niacinamide.............................................10 mg............... 50%
Panthothenic Acid (Vitamin B-6...............5 mg............... 50%
Manganese Gluconate Chelate..................5 mg.................***
Also Contains: Magnesium trisilicate, d-calcium pantothenate, and natural gelatin capsule.

Dosage:
Dogs: Under 20 lbs..............1 capsule daily
20-100 lbs............................1 capsule twice daily
Over 100 lbs.........................1-2 capsules twice a day
Cats:......................................1 capsule daily


The U.S. Food & Drug Administration (F.D.A.) has not evaluated these products. These products are not intended to diagnose, cure or prevent any disease.

Health Tech Industries utilizes only F.D.A. regulated laboratories which conform to the
F.D.A.'s G.M.P. (good manufacturing practice). We only use the finest quality pharmaceutical grade ingredients which are on the F.D.A.'s "G.R.A.S." (generally recognized as safe) list.
All our products are made in the U.S.A.


---
---
DR. BUSSAN'S™ Super HBA Plus™ for Pets

We at Health Tech Industries, Inc. are proud to introduce to our pet line another revolutionary dietary supplement for dogs and cats. DR. BUSSAN'S™ Super HBA Plus™ has been part of our "human" line of products for many years, and we are now offering it for your beloved pets! This all-natural product is especially important, as many of today's new "wonder drugs" are very toxic to their livers. In addition, Super HBA Plus™ is a powerful nutritional supplement to offset both physical and mental problems associated with the aging process.

Liver disease in older pets can result from long-term feeding of table scraps, ingestion of toxins, bacterial or viral infections, or simply the natural deterioration of the liver. Any liver disease may prevent your pet's liver from performing effectively. Dogs and cats are like us humans in that they tend to retain fat in their livers, especially with age. These fats hold onto, and bind up with, toxins. The liver is one of your pet's primary organs involved with transforming food from the intestinal tract into living tissue, as well as a storage area for many vitamins. The liver is also the detoxification center for their blood, much like the "oil filter" in your car, so we want to keep their livers as healthy as possible.

Other products currently available contain antioxidants such as milk thistle (silymarin), but these work mainly on the healthy liver cells—not on the fatty portions which actually retain toxins. A key ingredient contained within DR. BUSSAN'S™ Super HBA Plus™ is methyl butyrate (L-amino-B-HydroxyButyric Acid), an amino acid which is perhaps the most powerful liver cleanser available today. It de-fats the toxic fatty liver cells, and has been utilized in the cattle business for over fifty years to create leaner cows without steroids.

To help minimize drug-related liver toxicity, veterinarians are also utilizing DR. BUSSAN'S™ Super HBA Plus™ when they put your pet on one of the prescription medications that might be toxic to the liver. Many of today's common pet drugs such as heartworm medications, flea deterrents, and corticosteroids (such as arthritis medications) are toxic to the liver. Starting them on Super HBA Plus™ about a week before the drug therapy will allow their livers to handle the toxicity better. Maintaining your pets on the product for at least one month after the drug therapy has ended will allow time to clean out much of their residual liver toxins.

The thyroid and adrenals are two of your pets' most significant hormone-secreting glands. Many of the active ingredients in DR. BUSSAN'S™ Super HBA Plus™ were designed to help offset symptoms associated with aging such as fatigue, depression and weight gain, that result from nutritional imbalances in these glands. These same supplements can also help healthy pets to maintain normal glandular functions, as they provide the raw materials to produce hormones the animals need in the proper balance to maintain normal body functions.

Muscle weakness and atrophy (muscle wasting) are also symptoms of aging, as both muscle mass and ligament flexibility decrease. Signs might include visibly skinny legs (especially the rear), difficulty getting up from sitting or lying positions, increased stiffness in gait (especially as exercise progresses). The amino acids contained within DR. BUSSAN'S™ Super HBA Plus™ are part of the building blocks that make up proteins. Proteins are the nitrogen-containing key components of all living organisms, such as muscle—which contains 22% protein. By adding Pfaffia, we speed the conversion of amino acids to proteins, thereby naturally speeding up the growth of your pets' muscles—without the dangers of steroids! This feature has also been utilized by veterinarians to enhance post-operative recovery. By putting pets on Super HBA Plus™ approximately one month prior to surgery, they are able to increase cellular oxygen, maintain protein and help preserve muscle mass. This is particularly important to improve muscle strength and stability necessary for healing after joint surgery.

Arthritic conditions and obesity are two of the most common causes of muscle weakness and atrophy. We have found that by combining Super HBA Plus™ with our DR. BUSSAN'S™ Glucosamine+ Joint Rescue Formula, your pet can have the most effective nutritional combination for long-standing joint problems such as osteoarthritis and hip dysplasia. As a matter of fact, we started utilizing Super HBA Plus™ in conjunction with Glucosamine+ Joint Rescue Formula for pets because when their arthritis pain did not respond as quickly as expected to our Glucosamine Sulfate product alone, they were found to have toxins in their livers. These toxins usually resulted from prescription medications, including those which had been used to treat their arthritis, or even other types of natural products which stimulate cartilage formation such as bovine and shark cartilage, chondroitin sulfate, sea cucumber, Glucosamine HCl and green-lipped mussel (Perna Canaliculus)—all of which are not utilized as well as Glucosamine Sulfate alone.

Several ingredients contained within DR. BUSSAN'S™ Super HBA Plus™ are essential components of normal brain and nerve tissue, and can help reduce the "mental" symptoms of aging you may have noticed in your pet. Aging reduces the levels of these substances, and studies have shown that supplementing these key components increases concentration, memory, and the normal nerve transmission which is important for proper muscle development and function. Some of the brain changes physicians see in Alzheimer's patient are similar to the brain changes that veterinarians see in animals with Cognitive Disorder. Signs of Cognitive Disorder in pets may include inability to recognize family members, confusion or disorientation, change in sleep patterns, pacing, decreased attentiveness and increased irritability. Many pet owners also noticed that with age their pets had become less involved and energetic with family activities. When they started supplementing with Super HBA Plus,™ however, pets return to acting like "one of the family."

As you can see, DR. BUSSAN'S™ Super HBA Plus™ may be the ultimate supplement to nutritionally offset problems associated with the aging process, both physically and mentally! So whether you have a younger "performance" pet who needs energy, endurance, stress adaptability and alertness to stay in top physical and mental shape for years to come, or if your beloved pet has slowed both physically and mentally from toxins and the "normal" aging process, DR. BUSSAN'S™ Super HBA Plus™ will provide just the nutritional advantage they need to lead healthy, productive lives.

INGREDIENTS: DR. BUSSAN'S™ Super HBA Plus

Two Capsules Provide: (Same Ingredients for both human and Pet Versions)
%DRV*
L-amino-b-HydroxyButyric Acid......................................500 mg............***
L-Glutamic Acid HCI.........................................................108 mg............***
Potassium-elemental (as chloride)....................................100 mg............ 4%
Growth Hormone Activator (L-Tyrosine Metabolite).......100 mg............***

Also contains:
Purified Lecithin (phosphotidyl chlorine), Pfaffia Root (extract), Cephalins (phosphotidyl ethanolamine, serine, meso-inositol), Sphingomyelins (sphingosine phosphotides), Cerebrosides (glycosides).
Excipients include: magnesium silicate with trace of stearic acid (from vegetable oil) in a natural gelatin capsule.

Please note: The general information above also applies to the HUMAN version of our product. The dosages do vary between pets and humans as described on the individual labels. The U.S. Food & Drug Administration (F.D.A.) has not evaluated these products. These products are not intended to diagnose, cure or prevent any disease.

Health Tech Industries utilizes only F.D.A. regulated laboratories which conform to the F.D.A.'s G.M.P. (good manufacturing practice). We only use the finest quality pharmaceutical grade ingredients which are on the F.D.A.'s "G.R.A.S." (generally recognized as safe) list. All our products are made in the U.S.A.
---
---
DR. BUSSAN'S™ VET-ZYME Plus™ for Pets

Finally, the Digestive Enzyme-Antioxidant is here! VET-ZYME Plus™

Many of my fellow veterinarian VOM™ practitioners have been desperately asking for this type of product to better serve their clients' pets. Since we have been getting such excellent results over the last several years from the glucosamine sulfate and liver cleansing products designed by Health Tech Industries, LLC (Your fellow VOM™ practitioner Mark Bussan Jr., D.C., C.V.C.P., is the President), I asked him if they could also develop a digestive enzyme product for dogs and cats which could be sprinkled topically onto their foods. I personally tested the product they developed for us,
and compared it to other products currently available, and here is what I found:

* Excellent quantitative test results utilizing " Phase-Contrast Microscopy," at only 1/2 the dosage of most of the competition!

* Easier to use without stripping the epithelial tissue in the oropharyngeal region and tongue, as previous veterinary enzymes have as a side effect.

* Eliminates the need to introduce foreign gastrointestinal flora supplements.

* A viable solution for the "raw food diet problem."

* A digestive enzyme supplement that converts any pet food to a premium level food!

* An antioxidant, free radical scavenger that also enhances nutrient assimilation!

*A nutritional supplement that people will try, and come back to purchase again and again!

* Raw Food Diets: A clinical disease solution whose time has come, but can now be replaced with digestive enzyme supplements. Following is a list of conditions which may be nutritionally offset with early supplementation of VET-ZYME PLUS™ to enhance the poor quality of foods available for dogs and cats today:

** Poor Coat and Skin Conditions
** Atopic Dermatitis
** Chronic Inflammatory Bowel Disease
** Bloat
** Leaky Gut Syndrome
** Dietary Allergies
** Pancreatic Insufficiency
** Chronic Diarrhea
** Constipation / Megacolon
** Poor Digestion
** Bowel Integrity
** Weight Problems
** Injury Recovery
** Stress Related Disease
** Allergies (Inhalant and Dietary)
** Parasite Infestation / Elimination
** Skeletal Deformities (Osteochondritis Dissecans, Panosteitis)

** Poor Assimilation
** Inflammation of the Nervous System
** Organ Malfunctions (including the heart, thyroid, liver, testes ovaries, and bladder),
to name just few!

As you know, I am constantly searching for products, ideas, and techniques to allow us to utilize the VOM™ technique to its fullest. Having personally tested this product, I can honestly say that VET-ZYME Plus™ is truly a product that we really need to start utilizing on all the dogs and cats which come into our practices to help achieve this goal!

Sincerely,

William L. Inman, DVM, C.V.C.P.


P.S. The above letter was designed to provide you with the basics. If you are interested in a more technical explanation, please read on.

For every biochemical reaction that occurs in the body, the specialized proteins known as enzymes provide the stimulus. The over 1,300 different enzymes in a dogs or cats body control, promote and guide all of their life's vital processes including muscle movement, energy storage, breathing, digestion, reproduction, etc. No mineral, vitamin, or hormone can do any work without enzymes. Digestive enzymes help breakdown food, enabling the nutrients to be absorbed. Normally, dogs and cats begin life with plenty of digestive enzymes, but these are depleted if they are never given any fresh, raw food. This is because digestive enzymes are killed at temperatures above 105-170 degrees Fahrenheit, so they are not available in most commercial dog and cat foods. Since cooked food takes longer to digest, it also requires more of the animal's energy. When the pancreas is called upon to produce enzymes because the ingested cooked food has none, the pancreas must enlarge and work harder than it is designed to. When stressed, the pancreas sends white blood cells, or leukocytes, to the digestive system to aid digestion. But when the leukocytes use their enzymatic activity to aid digestion, they are less able to help destroy bacteria and foreign invaders in the body. This impairs the immune system!

So what is the answer to this pet food dilemma? Of course the best way for our clients to get digestive enzymes into their pets is to feed them raw foods. The enzymes in raw food do not replenish their pet's reserves as much as they digest a portion of that food so that their body does not use as much of it's own. We all know, however, that most pet owners do not want to spend the time preparing these foods, or the expense of getting the "manufactured" raw foods. The next best thing is to supplement the commercial dog foods they feed with a digestive enzyme product.

Dr. Bussan sent me several different samples of "prototype" products, and I tested them utilizing " Phase-Contrast Microscopy." This technology allows us to visualize in the peripheral blood the chylomicrons (pre-digested food bundles) absorbed from the gut. The activity and quantity of these chylomicrons is relative to digestion, and we have found that this is dependent on the presence of adequate amounts of digestive enzymes. It is now easy to visualize whether or not a particular enzyme supplement is effective through this method, as the change in the chylomicron number and activity in the peripheral blood is obvious.

As I stated before, I was amazed to find that several of these prototypes from Dr. Bussan, with only 1/2 the dosage, were working better than all the others at their full dose! After combining several of these prototypes, I feel that Health Tech Industries, LLC has developed the best digestive enzyme product today, which also contains one of the strongest available antioxidants, and is easy on the digestive tract: VET-ZYME Plus.™

The ability to absorb the nutrients from foods is at the foundation of good health. Plant enzymes function in the stomach, predigesting the food. Pancreatic enzymes function in the intestine and in the blood. Protein molecules that are only partially digested in the small intestine are able to be absorbed into the bloodstream. The immune system now treats these as invaders. Antibodies couple with these antigens (foreign substances that provoke an immune reaction) and circulating immune complexes (CIC's) are formed. In a healthy pet, these CIC's may be neutralized in the lymphatic system. But in a sick or elderly animal, CIC's accumulate in the blood where they can initiate an "allergic" reaction. As too many CIC's accumulate, the kidneys cannot excrete enough and the CIC's begin to accumulate in soft tissues, causing inflammation. This brings unnecessary stress to the immune system. Pancreatic enzymes are able to breakdown CIC's so that they can pass through the kidneys for excretion.

VET-ZYME Plus ™ utilizes plant enzymes and pancreatic enzymes in complementary ways to improve digestion and the absorption of essential nutrients. Plant enzymes enhance the body's vitality by strengthening the digestive system, while pancreatic enzymes are beneficial to both the digestive and immune systems. As proper digestive functioning is restored, many acute and chronic conditions may also be remedied!


INGREDIENTS: DR. BUSSAN'S™ VET-ZYME Plus™ for Pets

ONE LEVEL SCOOP (1795 mg) WILL PROVIDE:
Pancreas Powder (Min.).........................................1365 mg..................76%
Grapefruit Seed Extract (Min.)................................100 mg...................6%
Betaine (Min.)..........................................................100 mg...................6%
Cranberry Extract (Min.)...........................................50 mg...................3%
Bromelain (Min.).......................................................50 mg...................3%
Papain (Min.).............................................................50 mg...................3%
Ox Bile (Min.).............................................................30 mg..................2%
Pectin (Min.)..............................................................30 mg...................2%
Pepsin (Min.)..............................................................10 mg...................1%

Other Ingredients: Trace amounts of Magnesium Trisilicate and Silicon Dioxide as
anti-caking agents.

The U.S. Food & Drug Administration (F.D.A.) has not evaluated these products. These products are not intended to diagnose, cure or prevent any disease.

Health Tech Industries utilizes only F.D.A. regulated laboratories which conform to the
F.D.A.'s G.M.P. (good manufacturing practice). We only use the finest quality pharmaceutical grade ingredients which are on the F.D.A.'s "G.R.A.S." (generally recognized as safe) list.
All our products are made in the U.S.A.


---